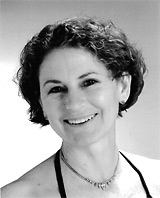 Susan McCullough –
is a native of Columbus, Ohio .
She graduated from the high school program of the North Carolina School of the Arts in 1969 and shortly became a founding member of the North Carolina Dance Theatre.
She joined the Harkness

Ballet in 1972 and in 1974, as Jiri Kylian became the director, she joined Nederlands Dance Theatre

(NDT).
Over the next nine years with NDT Ms. McCullough was an original cast member in Kylian's "Sinfonietta", "Symphony in D", "Symphony of Psalms" and of other choreographers such as Hans Van Manen, Glenn Tetley and William Forsythe.
She became a company teacher and Ballet Mistress for NDT in 1980.
Returning to the United States in 1984 Ms. McCullough was a guest teacher and staged Kylian's repertory for The Joffrey and The Royal Winnipeg.
In 1986 she was appointed the Director of the Pittsburgh Ballet School.
In 1988 she was appointed the Dean of The School of Dance of the North Carolina School of the Arts , a position she held until 2008.
She "retreated" to the faculty of the School of Dance at (U)NCSA in 2008.
Susan
has choreographed and restaged over thirty works since returning to the USA in 1984 for the North Carolina Dance Theatre, The Pittsburgh Ballet Theatre, the Tallahassee Ballet, SUNY Purchase and the North Carolina School of the Arts to name a few.
She was the recipient of the Pennsylvania Arts Council Choreographer Grant in 1987.